PRODUCT DETAILS
✅ DON'T BLOW YOUR TEMPER, BLOW YOUR HORN ✅ 

---
Are you the Proud Owner of a Badass Vehicle with a weak puny horn that sounds completely out of place? With this 150 DB Extra Loud Air Horn, you'll definitely be heard! 
The powerful electrical compressor allows you to use it at all times and doesn't require any heavy air tanks. You can easily install it to the existing horn system or a separate switch and enjoy the benefits of 150 DB of loudness.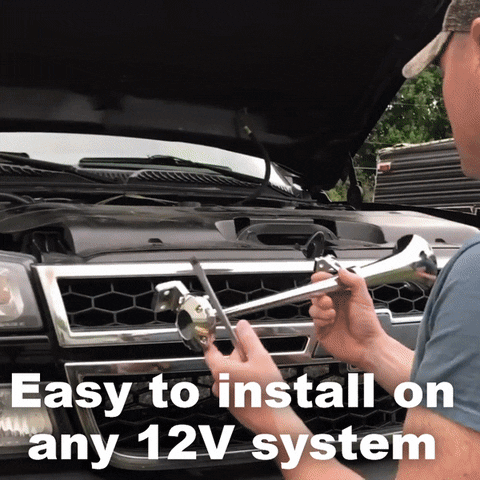 FEATURES
Loud and powerful train-like warning sound.
Long-lasting blasts without needing an air tank.
Weather-resistant

 

— 

works in all conditions.
Made from premium high-quality materials, metal trumpet.
Includes a complete step-by-step installation manual.
📢 Your vehicle is heard from far greater distances.
📢 The deep notes can be heard over loud music.
📢 Increases safety and reduces the chances of accidents and collisions.
📢 Makes a stronger statement than any stock horn.
Package includes:
Single Trumpet Air Horn, Air Compressor, Air Hose, Bag of fixings.
Product Specifications:
Trumpet Diameter: 3.75 inches
Single Trumpet Length - 17.7 inches 
Weight: 1lbs.
Material: Chrome Plated Metal
Fits: Any 12V vehicle
Max. Output : Up to 150dB
Compressor color may vary. (Red/Chrome as per availability)
Package Include:
1 x Metal Trumpet
1 x 12V electric compressor
1 x Air hose
1 x Setup kit (Attachment screws and brackets)